Four Corners Range Facilities
Indoor Range
The Indoor Range is the first building you will find upon entering the Four Corners Rod and Gun Club. The facilities include a class or meeting room, a small kitchen, rest rooms, and a 50 ft. range with 10 shooting stations. The range is limited to the firing of .22 rimfire pistols or rifles only. No magnum .22 rimfire ammunition, .17 caliber rimfire firearms, or centerfire firearms are allowed to be used on the range.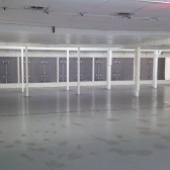 Short Range - 10 / 25 / 50 Yards
Around the bend and perched on the hill side is the Short Range. The long building contains a large classroom/meeting facility and restrooms. Two patio doors lead to the shooting range in the back. There are 40 covered shooting stations and two rifle shooting benches. The range itself is divided into 10, 25 and 50 yard shooting areas with brackets for hanging target frames. The Short Range is suitable for all firearms. Centerfire rifle cartridges, however, may only be fired at the 50 yard range.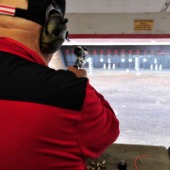 Lower Range - 50 / 100 / 200 Yards
The 50 – 200 yard Lower Range is suitable for all rifles and is also used for some of the pistol shoots. It is located at the end of the road, across from the Short Range, and features 15 covered shooting stations with benches for both right and left-handed shooters each station is equipped with "silencer barrels". The "silencer barrels" are used when shooting center fire rifles from the bench, in our efforts to limit the overall noise level. The building behind the range contains a small meeting room and a kitchen.Picnic tables are scattered in the 'yard' area, offering an inviting place to relax.
This area hosts the Club's official picnic functions, although pots of Bob's famous chili and cornbread, as well as, other goodies have been known to appear at any of the longer duration shoots held at the Lower Range.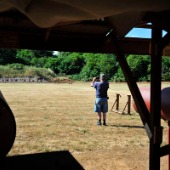 Archery Range
The archery range is open to compound, recurve and crossbows with field tips only (no broadhead or blunt point arrows). Targets range from 10 yards to 50 yards and are shot from a covered area. Range is open all year.
There is also a field range with 3D targets placed at various distances. Try your skill on animals from turkeys to dinosaurs. The 3D target range is seasonal with the animals hibernating during the wet months.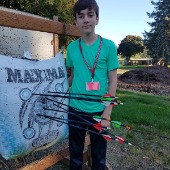 PREVIOUS ANNOUNCEMENTS REGARDING RANGE STATUS
Posting 5/14/20

Initial post for limited hours and range opening.
Posting 4/27/20
First, the Joyous News!
The Executive Committee is pleased to announce that the Lower Range will re-open on a limited basis beginning April 30, 2020, for members and associate members only [no guests]. We will be open Thursday thru Sunday to start and hours of operation will be from 12 noon until 7 p.m. [or until the red lights come on], depending upon the availability of volunteers.
We have two 10-yard positions, one 25-yard firing station, up to ten benches for 50 yards or 100 yards, and two firing points on the 200-yard line. Unfortunately, the Indoor Range, Archery Range, and the Short Range will remain closed at this time.
Our continued operations, however, are subject to certain conditions such as having sufficient volunteers available to man the range, as discussed below. In addition:
a. Only one person per bench.
b. Targets will be changed on the half-hour.
c. You may shoot as long as you like if there is no line but please rotate out at the target change if there are others waiting to shoot.
d. You must maintain a minimum distance of no less than six (6) feet between you and other persons.
e. Note: no guests are permitted.
f. Please limit your use of the bathrooms in order to reduce the need for sanitization of them.
g. Other safety precautions may be required as needs arise. Please follow the instructions of the Club volunteers and RSOs.
Anyone failing or refusing to comply with the conditions of use will be directed to leave and denied entrance to Club grounds until the Club has fully reopened.
Be advised we have modified the facility somewhat in order to accomplish two legal requirements for resuming operations: 1) ensuring compliance with social distancing; and 2) sanitization of each firing station between shooters. The surfaces of the shooting benches, for example, are now painted concrete. As a result, you should bring your own shooting pad or blanket as well as any sort of shooting rest. Please also bring your own Personal Protection Equipment [PPE]. Be sure to take these things with you when you leave.


Now, a Call for Volunteers!
We need your help to help the Club stay open, in that we must have volunteers available to oversee social distancing and sanitizing firing stations between shooters. If you are interested in serving and have been a member for two or more years, please contact Club Secretary Richard Noble at (503) 991-6197.
In addition, we are always accepting donations of disinfectant items such as alcohol (preferably ethyl alcohol), sanitizing wipes or sprays, hand sanitizers, and PPE for volunteers (especially protective gloves).
-Daniel Carroll
President
Four Corners Rod & Gun Club

Posting 4/15/20
Friends,
The Executive Committee met on Monday, April 13, at which time it was concluded that all ranges will remain closed for the time being. However, we are working diligently on taking prudent steps that may enable us to safely open portions of the Lower Range; and we are doing so as quickly as we can. We believe these actions likely will conform to the requirements of the Governor's Executive Order as well as satisfy other safety concerns. Stay tuned for more news.
Thanks for your patience and understanding.
Original Announcement: 3/23/20
Dear Members and friends of Four Corners Rod & Gun Club:

Please be advised that, pursuant to the Governor's Executive Order 20-12, all Club facilities are closed until further notice.
This is part of the broad directive that everyone stay home to the maximum extent possible in order to slow the spread of COVID-19. We apologize for any inconvenience caused by this closure.
These are extraordinary circumstances in which we each must do our part to ensure the health and safety of ourselves, our families, and the community at large. Please stay home and stay well.
DATED this 23rd day of March, 2020