WELCOME TO
Four Corners Rod and Gun Club
Salem's Premier Shooting Club
Open, safe shooting, low key events weekly, and fun for everyone

Four Corners Rod & Gun Club is a membership based range. Many of our events are open to the public for a small fee. Click on the membership tab or button above for more information. We are still accepting new members.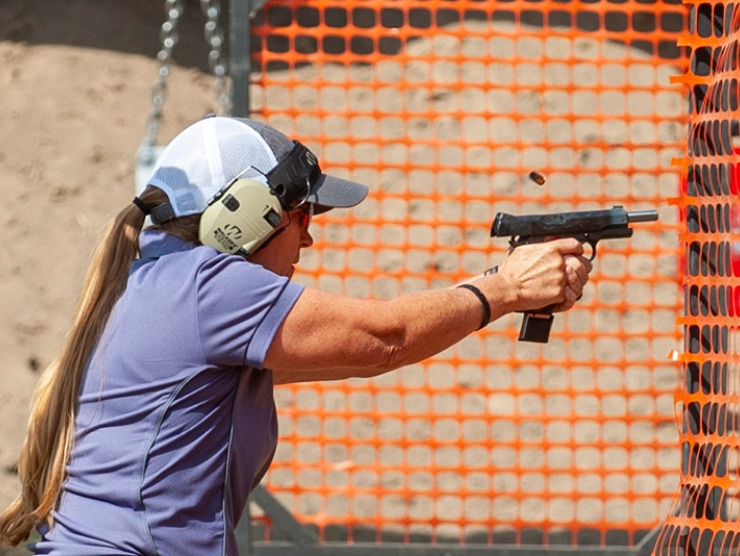 A Place to Shoot
Have access to a private range nearly every day of the year. Numerous events are open to public each month. Check out the CALENDAR page for upcoming shoots.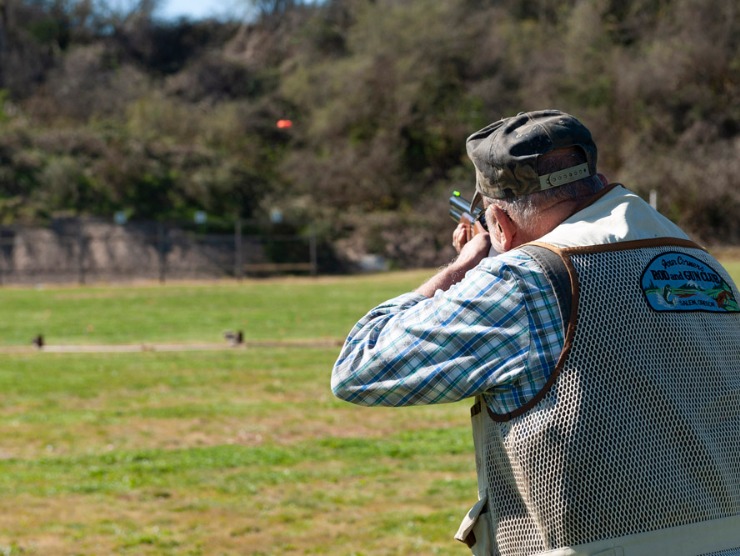 Something for Everyone
From an indoor 50 foot range for rimfire .22 out to 200 yards for your rifles, Four Corners has something for everyone. Fun shoots each week are a great place to practice and meet other shooters. We have an active youth program and special events for women as well. The facility has three ranges for firearms, a known distance archery range and a season 3D archery field.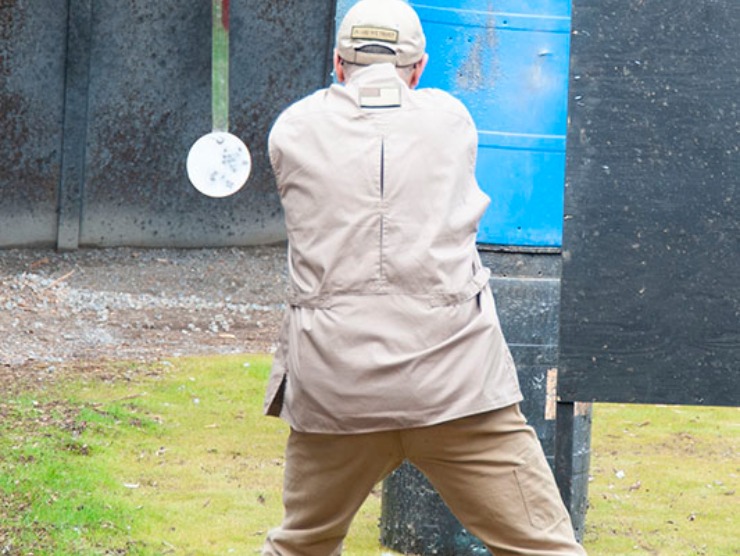 Safety First
With rules that emphasize safety, we want everyone to have a fun and safe experience at the club. New member's orientation helps shooters start off right.
New Club Rule Change
The Executive Committee approved a rule change allowing for ten (10) rounds to be loaded in magazines for rifles. This number is now consistent with the ten (10) rounds allowed to be loaded in handgun magazines. M1 Garand owners appear to be the happiest about this news!
Member Renewal Form Now Online
Membership renewal forms will be sent out soon, but you can beat the rush by using our new downloadable form. The renewal can be filled out on your computer, helping to make sure all information is easy to read. If you are paying by check you can either send it in as usual or there is now a drop box in the Short Range Building where you can drop off your payment (even if you use the hand-written renewal that you receive you can still use the drop box). If you are paying by credit card you also now have the option of submitting your form by email to the club Secretary. If you are requesting to apply as a new member, please see the "Membership" page for this form and submission guidelines.
INFORMATION ON RENEWAL MEMBERSHIP CARDS

It is membership renewal season. All members who turn in their renewal forms by May 31st will receive their cards in June. Renewal forms received in June will be sent in July. Please remember our Club Secretary processes all membership renewals during this time of the year so please get your form in early. See below for links to downloadable forms (which can be filled out on your computer). Also remember you can now drop your forms off in the drop box inside the short range.
Featured Club Activities & News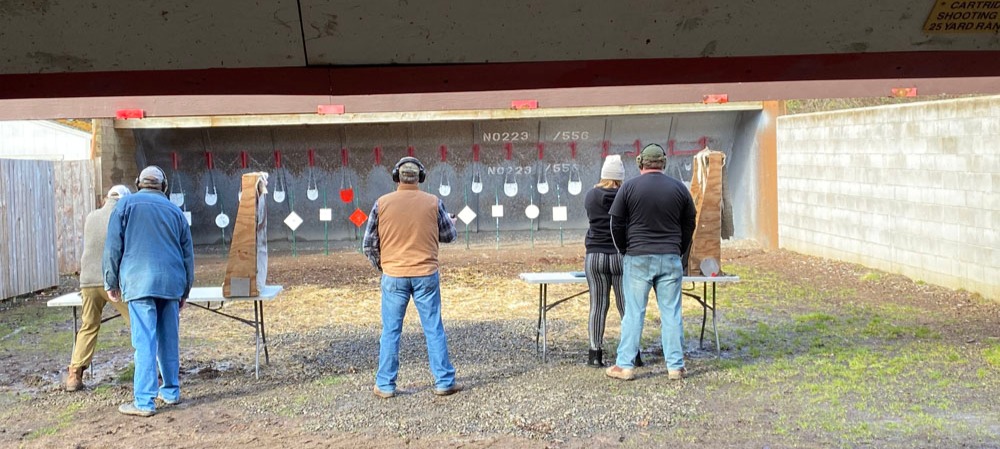 Rifle / Pistol Verses Shoot - Monday (evening), 7/26/21
This will be a Verses match – two shooters competing against each other. Centerfire and .22 rimfire handgun / rifle. Bring 100 rounds for each gun. You can compete in one division or all three divisions: Center fire hand gun /.22 rim fire hand gun / 22 rim fire rifle. Bring a friend and see who is the winner.
Save the Date Top Shot: Saturday, July 31st.
For what you ask? Quite possibly the coolest shoot at the club in modern times. TOP SHOT will challenge competitors with a little bit of everything. Events include .22 rimfire rifle and pistol in the indoor range, center fire handguns at 10 & 25 yards, pistol caliber carbines (or rifles) at 50 yards, long guns at 100 yards, flying clays with a shotgun, archery and even a casting pond (remember, we are a ROD and gun club!) Click HERE for a flyers and more details will follow. But definitely mark the date on your calendar. Contact information is on the flyer so please let the coordinators know if you will be attending. Please see flyer to RSVP / sign up for the shoot.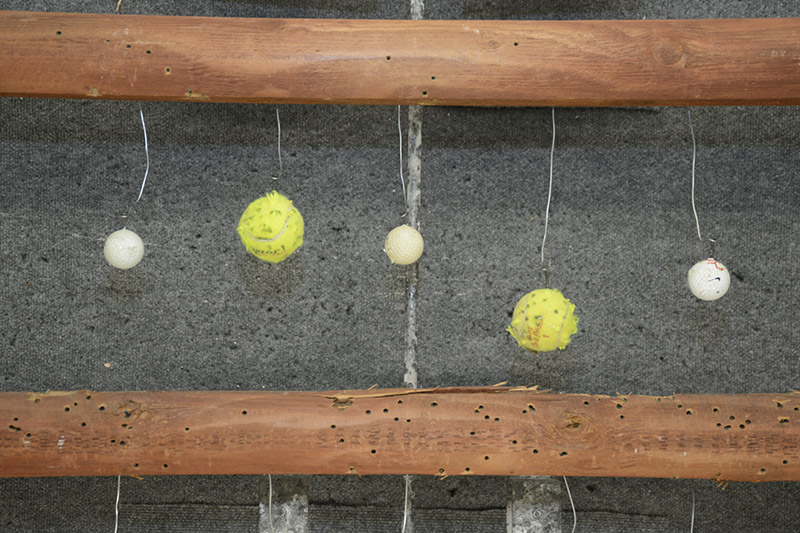 Return of the Indoor Shoots!
After being postponed for nearly a year, the indoor shoots are back. Check the calendar for details regarding the rimfire defender pistol and the rimfire golf ball shoot. Both are scheduled for August in the indoor, .22 range. Each shoot is designed for .22 pistol and both are fun. Golf balls at 50 feet can be challenging, but don't let this stop you from coming out for some fun. We are also seeking members interested in volunteering as match directors for the events. Contact Rick Reitz if interested.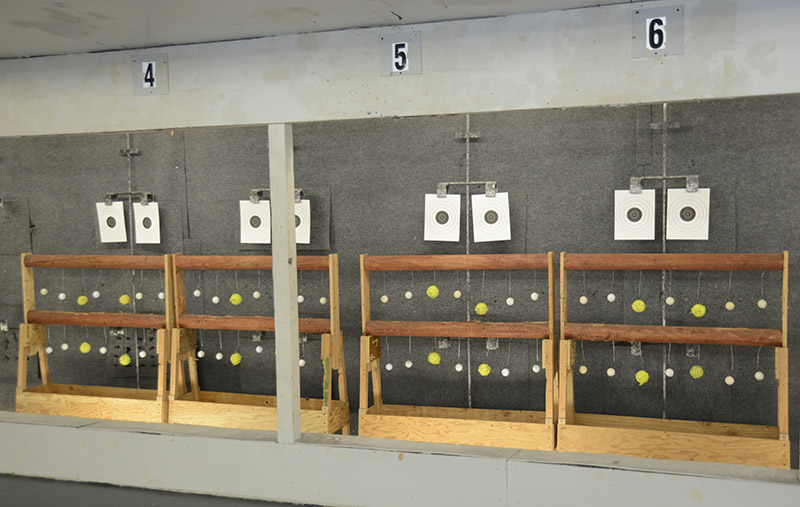 Sight In Service is Back!
OPEN TO THE PUBLIC
Our annual September Sight In Service is returning in 2021. For each weekend in September non-members will be welcomed to our facility to sight in their rifles (and pistols) for the small fee of $6.00 per firearm. We are seeking club members to volunteer on Saturdays and Sundays during the month to assist with duties to a assure safe and efficient event each weekend. Please contact our Club Vice President Kevin Galbraith to volunteer or for additional information. To download a flyer with more information click on the photo to the right. As a reminder, members may not bring non-family member guests to the club during the month of September. All ranges will be closed to open shooting by members on the weekends during the month. Most weekend events are suspended at the club during the month as well.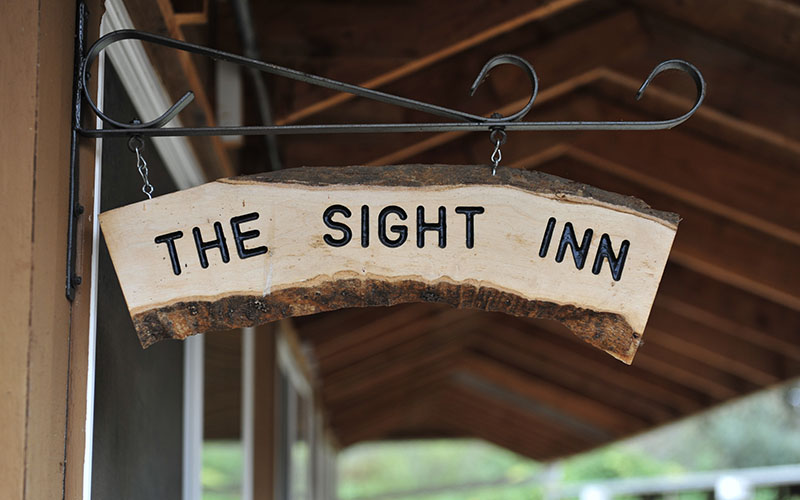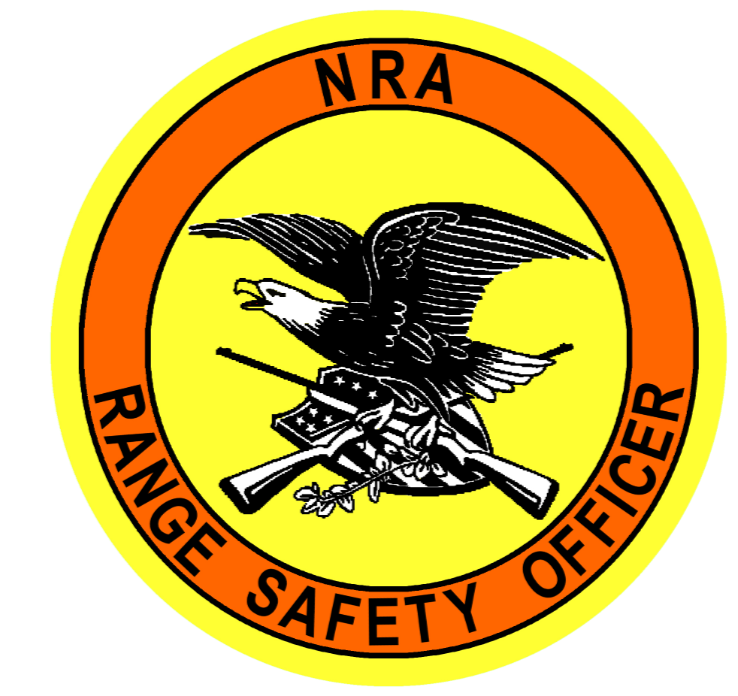 NRA Range Safety Officer (RSO) Course
Monday, August 16th & Wednesday, August 18th - 6:00pm to 10:00pm
The club is hosting a Range Safety Officer class for interested members. Anyone interested in assisting with sight in service should consider attending the course to help reinforce safety during the service. Class will be held in the Short Range building. There is no cost for the class for Four Corners members. Those attending the class will need to register through the NRA website and will reimbursed for this certificate fee up to the amount charged for NRA members (you do no need to be an NRA member to attend or register for certificate; however, there will be a portion of the fee not reimbursed by the club). Please click HERE to email for additional information and to reserve your place in the class.
Have Shooting & Fishing Gear you want to Buy, Sell or Trade?
Some of you may remember way back when we used to have a for sale, trade, wanted section on the website. Honestly, it was not the easiest thing to manage to say the least. But we are gluttons for punishment (and want to serve the membership as best as we can) so we are going to try a new idea. Instead of on the website, we are going to create a sale / trade / wanted page in the newsletter beginning in August. Here is how it will work.
If you have something firearms or fishing related (we are a rod and gun club) that you would like to sell, are open to trades or are seeking you can send the information to info@fcgc.info to be included in the upcoming newsletter. This service is for club members only! Here are the rules.
You must be a member of the club (no posting for friends or relatives)
All items must be legal to sell and possess
Firearms posted must be transferred following Oregon and Federal laws
You can include contact information in the form of email or phone
We will try to include photos, but his will depend on if it makes the document too large.
Include your member number with your submission
Anyone violating the rules will not be able to post in the future
All submissions must be received by the 21st of the month to be included in the following month's newsletter

Every month there will be a link to download a PDF page that will have all the information (just like the calendar on the website). So if you have some extra ammo (stop laughing), looking for a fly rod or found a safe queen hiding behind your collection that you wish to part with, you now have another resource.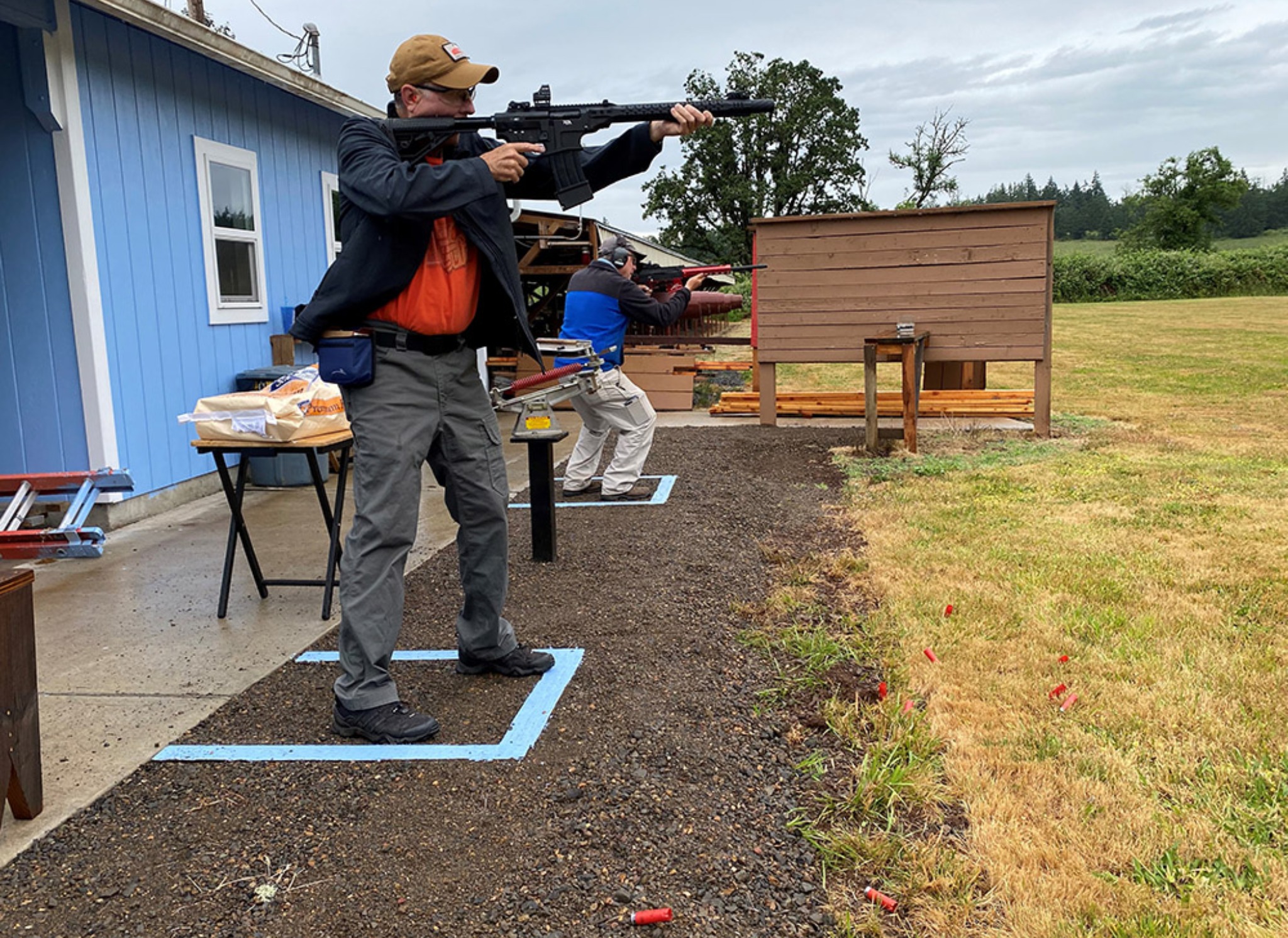 New Shooting Opportunity #1
A clay target thrower has been installed at the lower range. It is located behind the new sight in building to the west of the main range. It is open to member and guests for use. Members need to bring their own biodegradable clays. Please do not adjust the angle of the thrower; is is set for safety and to not interfere with the main range. Only two shooters may shoot at a time and must shoot from the designated areas. Shooters will need to watch for cease fire on the main range move to the safety area.
New Shooting Opportunity #2
If you have been to the 50 yard side of the short range lately you might have noticed some new framing on the left side of the downrange area. With the 10 yard area of the pistol range being one of the busiest parts of the range, the club has added new points to hang targets at 10, 15 and 25 yards. This adds a new distance (15 yards) and also allows for rifles to be shot at closer ranges (members have been asking for a 25 yard rifle range to get their new scopes "on paper" during sight in. The 50 yard target hangers work on these just like normal. Please make sure you are lined up properly so bullets are impacting properly in the berm. The steel has been moved to the right; please also shoot straight at these as well without crossfire.
July 4th, Independence Day, and what better way to celebrate than with breakfast and a shoot. And so it was for the dozen shooters who arrived at the Lower Range on the morning…
July 12, 2021
CONTACT US
---
For general club information please include your name and contact information below. Go to the CONTACT US page to reach a specific person (Executive Committee member, Education Foundation board, Match Directors, Range Masters, CAJRC, Pistol Team or Webmaster.