November Limpy's Memorial Meat Shoot report
December 13, 2021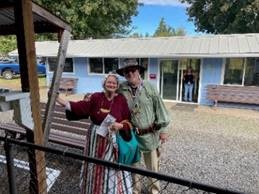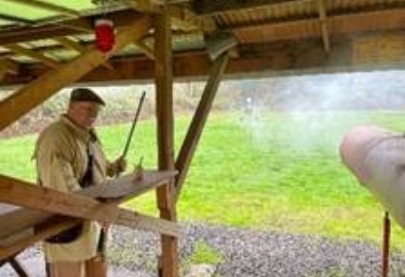 Black Powder Schutzen and String Cutting
This year's meat shoot only had 3 shooters so we didn't shoot a trail and went straight to working on blasting apart the Schutzen and then string cuts. Both targets proved to be challenging but ended up rewarding all shooters with meat prizes.
Jim Miller won the match by cutting the most strings at 3 strings, Eagle Keeper cut 1 string and Mike McGuire showed great skill and control, as he severely wounded string #5, grazing it with his roundball 3 different times, shredding the string each time just a little more, but not cutting it. We rewarded his amazing skill by letting him take the wounded string.
Ila missed coming out due to a severe cold, she is feeling better now and didn't have Covid. In memory of Limpy we brought his favorite cider donuts from EZ Orchards store, and an apple pie. Jim and Mary Lou Iremonger came out remember Limpy and cheer us on. A great and rewarding time was had by all, as everyone took prizes of meat home. A special thanks for Katie who did the shopping, organized the meat prizes to the targets and announced the winners of each event.