February 2023 Muzzleloader Pistol Shoot Report
March 17, 2023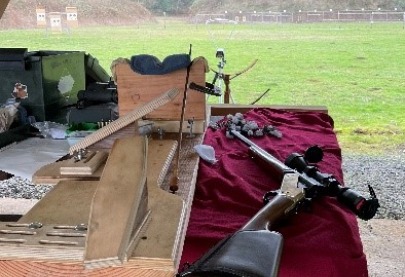 BY Eagle Keeper
We had four shooters this month, we shot our double ring buffalo targets with pistols at a challenging 25 yards
1st place Jim Miller 64 1X
2nd place Carl Johnson 59
3rd place Larry Keller 52 1X
One of our shooters chose to shoot his black powder cartridge rifle and work on some new loads off the bench as pictured.
Thank you to Katie for doing the registration, scoring targets and making a really fine pot of chili!
Next shoot March 11th possibly shooting shotgun and rifle, warming up for April's Bull of the Woods
The second Saturday on April 8th is our 31st Annual Bull of the Woods shoot! We will be shooting Rifle, Pistol, Shotgun and throw hawk and knife the fun starts at 0915. We will have Chili for lunch after the shoot.
Click HERE to download the report with additional photos.