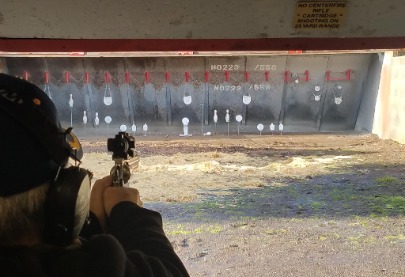 Building Handgun Skills at 10 / 25 / 50 Yards
Over a dozen shooters spent the morning shooting in weather ranging from steady rain to sunshine taking turns at targets from 10 yards to 50 yards with their handguns, with an additional four rounds of slugs out of their shotguns to finish off each set. This was a great shoot for either building accuracy skills with your handgun or keeping them up with targets ranging from near to far. The variety of handguns at this match ranged from compact semi-autos to scoped (and in some cases very large) revolvers. Optics from red dots to scopes shot along side traditional iron sights, each shooter competing more against themselves than the other shooters. Lots of compliments for good shooting as a few were able to clean all 10 targets at the 25 yard line; not an easy task!
The shotgun slugs on steel targets at 50 yards was a great way to finish off each round. The steel often didn't think so as they leapt off the hangers after some shots, trying to hide from the next punishing one ounce slug approaching at 1,500 feet per second. With handguns at this distance, a standard sheet of paper seems much smaller than when it is on the desk in front of you!
This is a great match if you want to try out one of the events at the club for the first time. No time limits for shooting or holster work, you can shoot most any type of handgun and be surrounded by others who are out to safely have a good time with their handguns (and sometimes shotguns).
Here are the top five shooters for the event:
Tim D.
Jim R.
Adam K.
Dean B.
Will F.