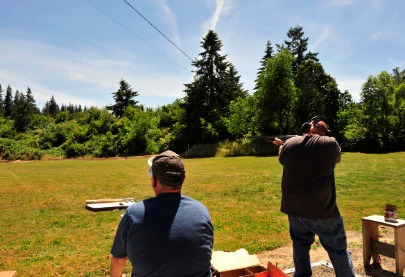 Learn how to shoot clays and use the thrower
The July shotgun clays workshop was great. For a few dollars and a box or two of shells, shooters learn how to use the clay thrower on the lower range (hint, it's easy) and practice hitting flying clays as well. The club provides the clays for the class fee of $5 for members, just bring a shotgun and bird shot (7 1/2 or smaller, lead shot) and enjoy a few hours shooting singles, doubles and shooting with other shooters.
The next workshop will be on Sunday, August 14th from 1:00pm - 3:00pm at the thrower on the lower range. The main range remains open to rifle shooters during the event. As a reminder to all using these ranges, if you are going to shoot clays, let the folks on the rifle range know you are there. If you are on the rifle range and you know there are shooters using the thrower, check with them before calling a non-emergency cease fire so they can properly unload and place their guns in racks.